Grizzly & Co. is committed to allowing students to connect to the outdoors, be it through rigorous survival training, or a relaxing stroll through the forest. We truly believe that through outdoor education and the promotion of the "old ways" we can provide a strong skill base for meeting and overcoming the challenges of today's unstable world. Through practicing outdoor skills and adventurous play our students build awareness, self reliance, and confidence. Learning to take care of ourselves allows us to care for others. Whether bringing the group home safely from a hike or aiding their families during times of crisis, Grizzly & Co. students will be prepared.
It's our favorite time of year and classes are now open! Send us an email now to join us for two hour skill classes, Lil Critter classes for youngins, and exciting workshops with local craftsfolk. Our site continues to grow and we have more activities to offer than ever before.
We are still available to for private booking sessions on many evenings and weekends, so if you are looking for a fun spot for a class trip, birthday party, event, axe throwing session, night out, etc., we've got you covered. Please send us an email at info@grizzlyandco.org to set up your private event.
Programs at Grizzly & Co.
BY APPOINTMENT - SHOOT US AN EMAIL AT INFO@GRIZZLYANDCO.ORG
2 Hour Class Sessions - ages 7 and up
Skill based instruction focusing on applicable outdoor skills, frontier living, hand crafting skills, and much much more!
There are both pay by class and six-week session options available.
- $35 per child for a single class
-Send us an email to register! We will send a link to sign up!
- Scouting discount - $5 off
- Sibling discount - %10 off
- $200 per child for a six week session
- To register for a 6 week session, send us an email and we will send you a link and instructions on how to sign up!
- Scouting discount - $20 off
- Sibling discount - %10 off
Lil Critters- ages 3 to 6
Outdoor exploration including guided play, crafts, and child safe adventures!
-Adults are required to stay with their children for this program!!
-Send us an email to sign up!
- $20 per child for a single session




Weekend and Group Private Sessions
We have what you want! Instruction based on what your group enjoys (or say surprise me and see what we have), leadership and bonding games, axe throwing (for ages 11 and up), frontier skills and games, and so much more.
Family groups, scout troops or dens, those interested in leadership training, or any other group are welcome to email us at info@grizzlyandco.org to ask any further questions or schedule a time for your group.
Please download and fill out our waiver before your class. All participants need the outdoor skills and photo release waiver. Thank you for your cooperation!
Gift certificates now available!
Click on our Gift Certificate button below to view the options available. Send us an email if interested and we will send a link and instructions on how to purchase. Only one coupon code can be used for each gift card purchase. Gift certificates do not expire and can be redeemed at any time. When a 6-week gift certificate is activated by the participant, it will be active for the next 6 consecutive classes. Single class sessions can be booked at any point available.
At Grizzly & Co., we provide safe, supervised opportunity for adventure. With our years of experience teaching outdoor skills, wilderness survival, axe throwing, and team building activities, we are able to offer a wide array of activities. Students of Grizzly & Co. may practice nature observation one day, fire building another, and team building exercises on yet another day. Each class is based around the needs and interests of our students, with personal growth in mind. Each activity is presented in such a way as to encourage practice, patience, focus, and eventual success! Some of our broader categories include:
Outdoor Skills- This includes such things as shelter building, plant identification, animal tracking, fire building, rope making, lashing and knot-tying, basic wood tools, water purification, first aid, and a host of others.
Throwing Skills- One of our specialties, Grizzly & Co. originally began as a mobile axe throwing range! With ten years of axe throwing experience, older students (11yrs and older) can expect to become skilled at axe throwing, knife throwing, spear throwing, and atlatl use. Younger students will practice rock throwing and stick throwing on our rock range! Finally a safe place to have some rowdy fun!
Team Building- Students will be constantly exposed to challenging situations requiring critical thinking and problem solving skills. While riddles and puzzles will be constant companions, students will also spend time facing our team building elements and rustic group challenges.
Frontier Games- While most of our time will be spent engaging in active learning, plenty of opportunities for students to unwind will be made available. Learn to handle a lasso, roll a log, play a few rounds of "cat and mouse", or challenge each together to a skillet toss. Kick back at a picnic table with some checkers, balance some river rocks, play some story dice, or a round of nine men's Morris.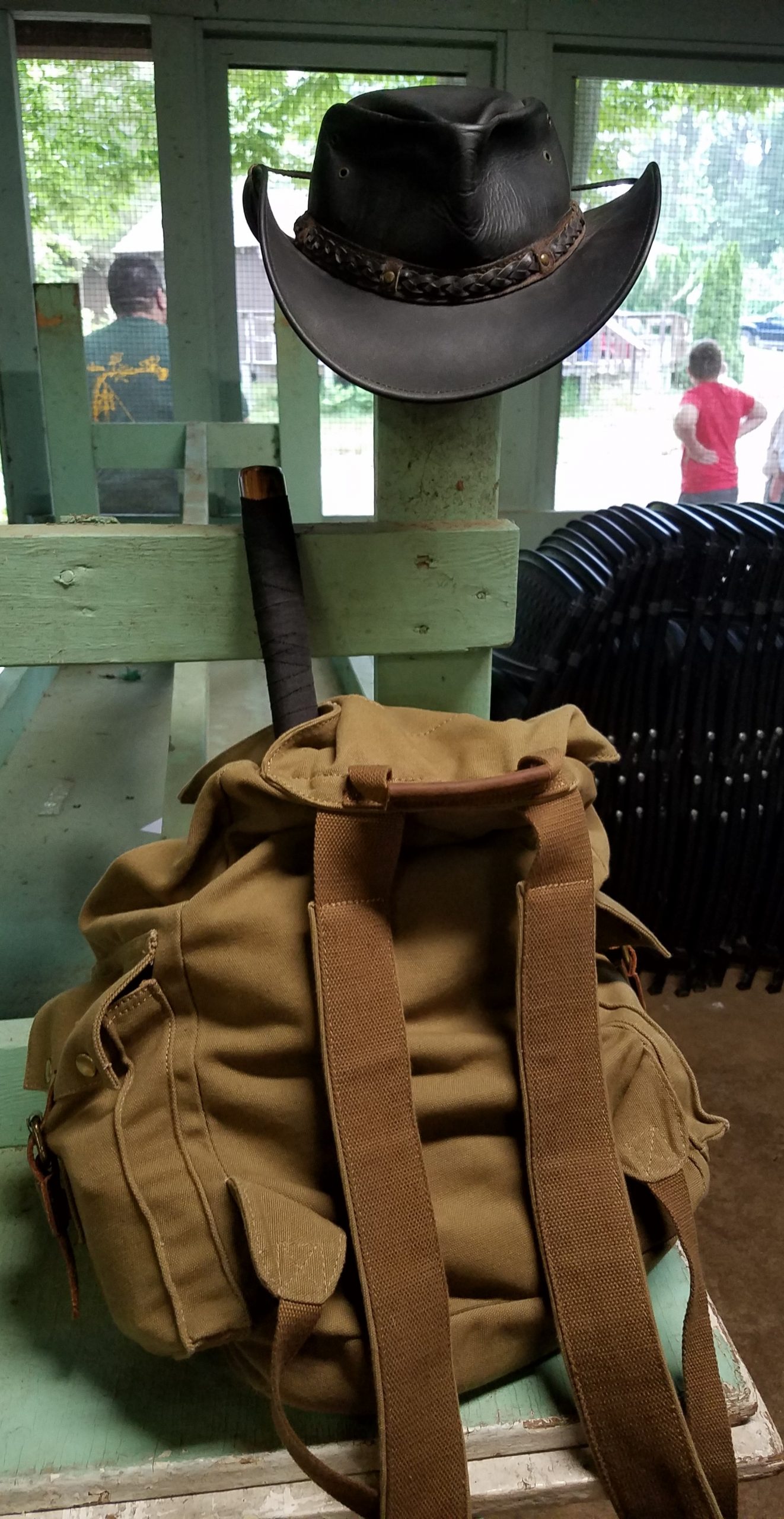 Ryan "Mountain Man" Southerland has been an avid scouter, camper, and outdoorsman since childhood. Being a second generation Eagle Scout, he went through life one camping trip at a time. Through scouting, Ryan discovered his passion for teaching the skills he came to love.
With Grizzly & Co., our goal is to share our appreciation and respect of the outdoors.